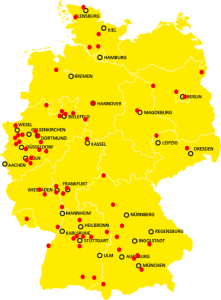 Locally well-known and globally connected
With more than 70 removal companies, approximately 6,600 employees at 120 locations throughout Germany, as well as a turnover volume of 752 million euros, DMS has been one of the leading providers of global removal and logistics services since 1968. In so doing, precisely aligned components are developed for all branches as regards the planning, organisation and execution of object removals, location and company relocations – in particular for large enterprises. Art, special and trade fair transports, as well as offers in the field of container storage for commodities and sensitive items, round off the DMS service portfolio.
In Germany, DMS is one of the market leaders in the field of removal & transport. According to a study conducted by the Fraunhofer Institute, the company attained position 31 in the ranking: "The Top 100 in Logistics (2011)." DMS services comprise the entire removal service spectrum, ranging from consultation/planning, the centralised steering and execution, right up to the acceptance and handing over, which also included the follow-up support. Intensive market research, concentrated development work as well as a fully-developed quality management system in accordance with 9001:2008 characterise a logistics company of above-average innovative power.
In a nutshell: dynamic, humane, and safe!