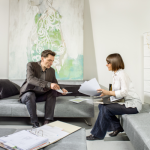 Did you know that every person moves 3 to 4 times during his or her life? Friedrich Friedrich executes 1,000 moves per year in the field of private removals. We have continually honed our removal know-how in the course of more than 85 years as a removal company in Darmstadt, and this enabled us to attain the high standard we have today. To execute a successful removal, competence and experience are also needed today. We are dedicated to ensure that the comprehensive preparation, planning and execution effort involved in a removal remains as simple as possible.
Why should you realise your removal with us?
A reputable removal company such as Friedrich Friedrich is characterised, among others, by the membership in the German Association of Movers and Logistics (AMÖ) e.V., recognisable by the kangaroo logo.

Removal companies that are organised in the AMÖ, commit themselves to compliance with binding quality standards and subject themselves to regular audits. This guarantees a professional removal right from the outset. Beyond the required statutory and official regulations, we also have a quality management system in place, which guarantees the high standard of our removals for our customers, in addition to making the processes transparent.
From "assisting with a removal" right up to a full-service removal

Every person is unique and, once the time has come for your removal, nothing is insignificant. For this reason, our offer includes everything from "assisting with a removal", right up to a full-service removal. Regardless of whether you are planning a removal within Darmstadt or beyond - we will tell you what is important and find the best solution for your upcoming relocation. Your removal consultants will assist you in this regard, right from the outset.
Hidden removals costs - not with us!
Inexpensive baiting offers made by disreputable removal companies often end up being much more expensive than the original price. This is because hidden costs are included and, in the worst case, these prices do not include sufficient coverage in the event of damage being incurred. A reputable and qualified removal company, such as Friedrich Friedrich, will always offer you a free, non-binding visit and provide you with a transparent removal offer on the foundation of the visit.