Sophisticated removal equipment for "heavyweights"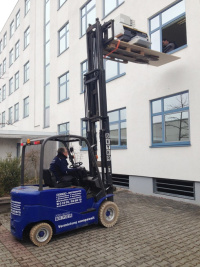 Dynamic market changes sometimes necessitate the relocation of individual production plants or even the entire corporate location. Once the decision has been made regarding a removal in your company, you require a partner that is able to coordinate also complex and heavy machine transportation. The removal of machines, manufacturing / production plants or warehouses, are also included in the scope of performance of Friedrich Friedrich.
Performance components for machine transport
Experienced project managers, specially trained expert personnel and special equipment can transport even the most sensitive facilities worldwide. You decide whether we should assume responsibility for the complete handling of your machine transportation or individual performance components such as
On-site inspection
Performance evaluation
Offer creation
Project management
Mechanical and electrical dis-/reassembly
Feel free to contact us with your request, we would be happy to reliably realise your project, with expertise and experience.