With special auxiliary aids, we save time and you save money
A perfect removal is only possible with the right constellation of trained specialists, professional auxiliary aids for removal and a state-of-the-art vehicle fleet. We deploy innovative auxiliary removal aids, so that your removal can be executed in a careful and efficient manner. For every situation we have the matching solution. And, if not, we will develop one.
Vehicle fleet
20 special furniture vehicles
6 trailers
14 service vehicles
32 interchangeable trunks
4 external lifts and
6 lift trucks
Where required, we have access to our Germany-wide network of partners for major projects.
Removal equipment
Solid packing materials ensure that your company move is executed securely and in a well-structured manner. Therefore, we use the following for our removals: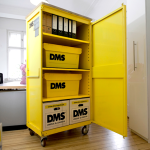 Hanging file folders for packing boxes
File boxes/plastic boxes (sealable)
IT transport tubs (offer protection against bumps, damage caused by impact, moisture)
IT protection covers consisting of antistatic bubble wrap
Special files and book trolleys
Lattice carts (for archive files, warehouse contents, large objects, confidential documents and removal objects that are risk of being stolen)
Security box for highly confidential documents
Marking labels for the clear allocation of the items to be removed
All packing materials, such as packing boxes etc. are delivered sufficiently in advance to the removal officers of your company.
Technical equipment
Outdoor lift (for removals in tight inner-city areas or through narrow stairwells)
Step setters
Lift trucks, scissor lifts
Special lift trucks
Low-loaders
Ramps, folding ramps
Manual operating stroke lifts
Huntchen
And many more.