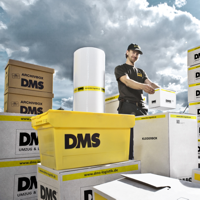 As a member of the DMS Friedrich Friedrich offers you packing boxes, packaging materials and transportation means that are ideally aligned to your specific requirements.
Packing material and removal equipment for damage-free removal
High-quality, stable packing boxes in a number of different sizes
Special packaging for glasses
Painting boxes for paintings, painting frames and antiques
Cardboard packaging and packaging materials for books, porcelain, TV, PC, hi-fi etc.
Clothing boxes for wrinkle-free clothing transportation
Protective film, covers and protective covers for upholstered furniture, mattresses and electronic devices
Lined bubble-wrap sheets
IT tubs with special packaging sets
Transport rollers
Storage containers, swap containers and swap bodies
External lifts
Loading ramps for your passenger car
You can have your removal equipment delivered to you by Friedrich Friedrich in a timely manner, or pick it up yourself in Griesheim (close to Darmstadt).