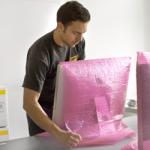 Nowadays, one cannot imagine relocating an office without any IT equipment. In the meantime, the removal of every kind IT devices and the use of special transport means has become a matter of course for every reputable removal company. For the removal of IT equipment, a diligent and complete labelling of all components is decisive in order to ensure the smooth transition. Since IT specialists execute the removal, we can guarantee the functional ability of your IT equipment at the new location.
Our performances for your IT-removal
Decabling of the devices by our IT specialists and specially trained removal employees
Packaging in special IT tubs or transport trolleys
The use of special packing materials for IT accessories such as, e.g. anti-static air cushion covers, by means of which damage caused by bumping is excluded
Specific packaging of the keyboard, mouse, connecting cables and small components in IT small component bags
Identification labelling of all PC components with removal stickers (by you or us)
Transportation in air-sprung trucks
Cleaning of individual or all PC components after the removal
Cabling of the components of your IT workplace at the new location
Should this be desired, the execution of a functional check
The performances provided by our IT service teams guarantee delay-free resumption of your work activities.