Carrying out a removal is a question of trust. When people leave their known environment, many questions and uncertainties arise. We have been carrying out removals for more than 85 years and, in the course of this time, have become top professionals in the removals business. Annually, we successfully carry out about 1,000 private removals, to the broad satisfaction of our customers. A removal with our removal company ensures that many concerns you might have in the run-up to the actual removal are already dissipated in advance and, as a result, particular problems never even arise.
Experienced removal consultants assist you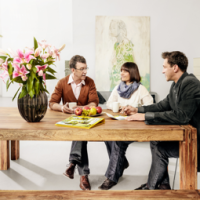 Which type of removal is the best for you is determined by our removal consultants in cooperation with you. From "assisting with removal" right up to a full-service removal; everything is possible with our removal company. The removal consultants of Friedrich Friedrich are experts in the assessment of removals volumes, in the finding of packaging and transport solutions and are your reliable assistants from the beginning, right up to the end. A competent assessment of the items to be moved ensures that your assets reach their new destination cost-efficiently and without any damage.
Overview of our removals performances
Personal and free visit by our removal consultants
Timely delivery of removal equipment such as packing boxes, packing material etc.
Rapid and careful packaging/unpacking of the packing boxes
Provision of chest freezers with power sets during the removal
Should this be needed, the use of outdoor lifts, e.g. with old apartments, narrow staircases etc.
Final cleaning and renovation of your old apartment
Furniture storage, warehousing or disposal of no longer required furnishing objects (self-storage)
Secure packaging material for your assets
Well-conceived packing solutions help us transport your assets safely and without any damage to your new home. And, since environmentally friendly actions are of great importance for us, we only use re-usable and environmentally friendly packing material.
Removal-related assembly work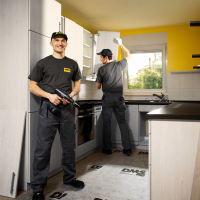 We will assist you with all technical challenges regarding your removal. Should this be desired, our professional removal employees expertly and quickly take care of all required assembly/ disassembly work in the run-up to the actual removal:
Professional disassembly and reassembly of the built-in kitchen, with all connections, performed by our in-house carpenter
Disassembly and reassembly of cupboards and furniture by all conventional manufacturers
Connection of electric and sanitary appliances
Assembly/disassembly of lamps, curtain rods, pictures etc.
Work with dowels
Installation / new installation of PC, television or hi-fi inclusive of  function testing
Good air in the new domicile - with smoke-free removals by Friedrich Friedrich
From the removal consultation up to the move into the new apartment – should this be desired, we will execute your removal smoke-free. So that you can be sure to enjoy fresh air in your new apartment, right from the outset.
For our non-smoker removal, which you can book from us without any additional charge, we make use of: