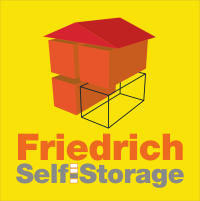 Storage space has become a rarity, particularly in large cities, and every 5th household has too little space. But what to do with one's possessions? Warehousing in rental boxes in the self-service warehouse of Friedrich Friedrich is the solution! Our offer in the field of self-storage successfully addresses private customers and business customers who are in need of temporary storage space, owing to increased flexibility and mobility demands, yet who still set great store by short-notice availability.
Secure, flexible, clean, discrete – storage in rental storage boxes
You can choose whether you would like to bring your assets that are to be stored to us yourself or whether you would like to arrange a pick-up service by us. You can store virtually all objects found in private households or in businesses, such as items of furniture, books, sport equipment, files, objects of art, spare parts, business documents, office material, trade fair items, sales booths, etc.  In a nutshell: everything that finds no space in the cellar or in your office and which is to be safely stored. The rooms are clean, well-ventilated and heated. What is more, they are easy to reach, as they are located in Griesheim, close to Darmstadt (business area north).
Service for business customers
Should this be desired, we offer our business customers an additional goods acceptance service during our business hours. During this time, you can take care of your core business and earn money.
Sizes of our rental storage boxes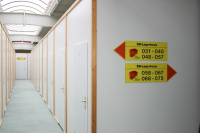 Type 1 -> 4 sm  = 8 cbm
Type 2 -> 6 sm  = 12 cbm
Type 3 -> 8 sm  = 16 cbm
Type 4 -> 4 sm  = 8 cbm "navigable"
Free surface storage
Shelving units with file storage
Access possibilities to the self-storage area in Griesheim
You receive a single key for your rental storage box and can access your possessions during the following hours: Monday - Friday from 08:00 to 17:00 (Saturday and Sunday by arrangement and binding agreement).
Should this be desired, you can receive packaging material from us
Packing boxes
Clothing cartons
Cutlery packing materials
Bubble wrap
Adhesive tapes
Bottle inserts
Transport  rollers
Sack barrows
and plenty more
If you have no vehicle...
...we support you with our transport vehicles and/or drivers, so that your warehousing assets reach our rental warehouse boxes without any hitch.